Tourist Attraction
5 famous Piths out of 51 , Situated at Birbhum:-
Nalhati (Distance from tarapith—25K.M.)
Nandikeswari (Sainthia) (Distance from tarapith—32K.M.)
Fullora (Labpur) (Distance from tarapith—60K.M.)
Bakreswar (Distance from tarapith—75K.M.)
Kankalitala (Distance from tarapith—90K.M.)



Other Holy places at Birbhum:-
Atla- Birth place of Bamdev (Distance from tarapith—3K.M.)
Akalipur- Gurjoya Kali, established by Maharaja Nandakumar (Distance from tarapith—44K...)
Birchandrapur- Birth place of Nityananda Mahapravu (Distance from tarapith—8K.M.)
Kenduli- Birth place of Joydev (Distance from tarapith—80K.M.)
Malleswar- Lingaraj Shiv (Distance from tarapith—18K...)
Kalleswar - Lingaraj Shiv (Distance from tarapith—35K.M..)
Ghosegram-Lakshmi Temple (Distance from Tarapith -12 K.M.)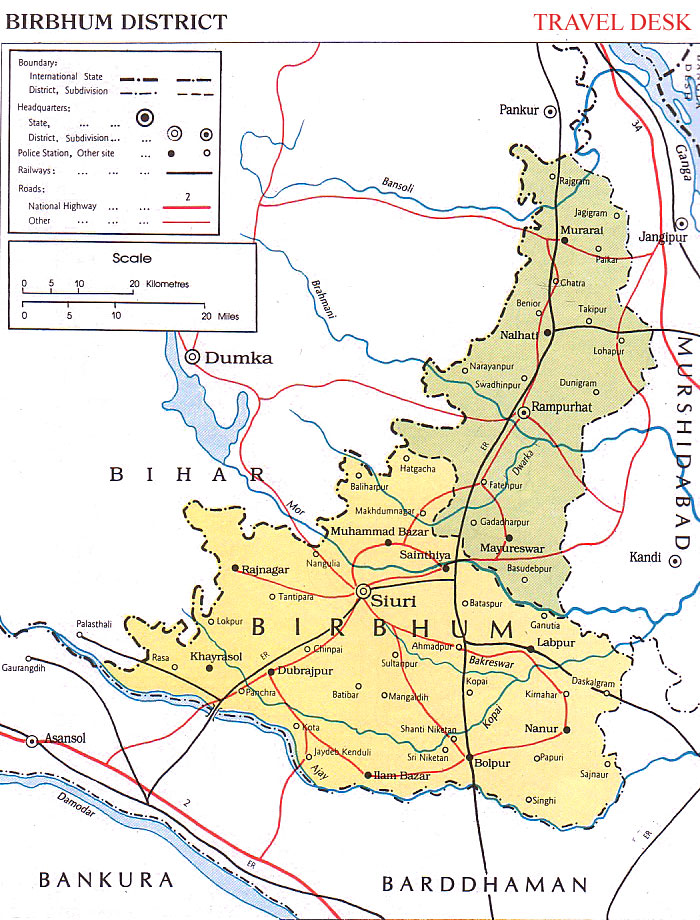 Picnic & Tourist Spot -
Shantiniketan (Distance from tarapith—90K.M.)
Shantiniketan is a small town near Bolpur in the Birbhum District of West Bengal and about 212 kms north of Kolkata. It is famous due to Nobel laureate Rabindranath Tagore, whose vision became what is now a University town - Visva-Bharati University. The place now attracts thousands of visitors each year. 

Shantiniketan was earlier called Bhubandanga (named after Bhuban Dakat, a local Dacoit), and was owned by the Tagore family. In 1862, Maharishi Devendranath Tagore, the poet's father, while on a boat journey to Raipur, came across a landscape with red soil and lush green paddy fields. He decided to plant more saplings and built a small house. He called his home Shantiniketan. He founded an ashram here in 1863 and became the initiator of the Bramho Samaj. 
Hazarduari (Murshidabad) (Distance from tarapith—85K.M.)
Hazarduari Palace Museum is located in the Hazarduari Palace in Murshidabad, former capital of Bengal. Murshidabad is at a distance of 219 kms from Kolkata by road. It was built during the reign of Nawab Nazim Humayun Jah (1824 – 1838 AD) by famous architect McLeod Duncan following Greek (Doric) style. The name of the palace owes to more than thousand real and false doors, vast corridors in it.
In 1985, the palace was handed over to the Archaeological Survey of India for better preservation. The museum is regarded as the biggest site museum of Archaeological Survey of India and has got 20 displayed galleries containing 4742 antiquities out of which 1034 has been displayed for the public.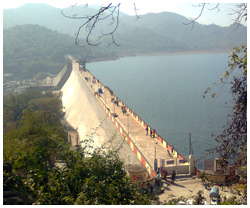 Massanjore (Distance from tarapith—75K.M.)
Massanjore dam, across the Mayurakshi River, is in Dumka district of Jharkhand State. Built with Candian aid, it is also called Canada Dam or Pearson Dam. It was commissioned in 1956.
The dam is 155 feet high from its base and is 2170 feet long. The reservoir has an area of 16,650 acres when full and has a storage capacity of 500,000 acre feet. Apart from the Massanjore Dam there is a barrage at Tilpara, near Siuri. The barrage is 1,013 feet long.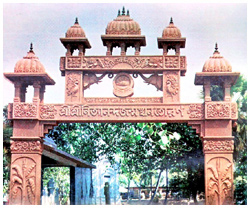 Birchandrapur , The Birth Place of Nityananda Mahapravu
Birchandrapur - Birchandrapur, 10 k.m. away from the Tarapith, is famous for the birth place of Nityananda Swami, co founder of Baisnav religion with Shri Chityanyadev. Birchandrapur, named after Birbhadra Goswami - the son of Nityananda, is a part of the village Ekachakra which according to mythology has been inhabited by the Pandavas. 'Akali mandir' is situated at Akalipur, near Bhadrapur, 25 k.m.from Rampurhat and famous for its unique hexagonal structure and had an history of more than 300 years (it is assiciated with Maharaja Nandakumar).According to the lore the ancestral house of Maharaja Nandakumar is still there at Akalipur. At present there is a Vaishnab religious center (ISCON TEMPLE) with some old temples in Birchandrapur.